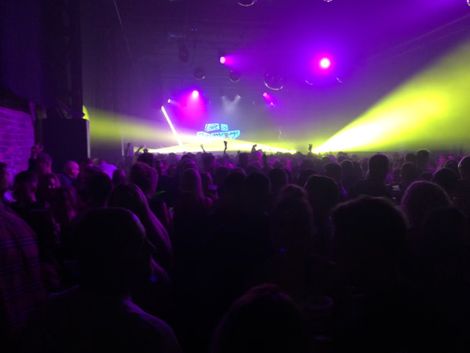 DJs on the night this time in Room One were Todd Terry, Purple Disco Machine and Melvo Baptiste. Over in Room Two, it was John Morales and Natasha Kitty Katt holding fort.
Trying to avoid the expected bedlam of the 9pm start, we headed off to local boozer, Firebird, for some chilled pre-drinks and then made our way to the SWG3 around 10.30pm. By then, the rain was on and it was bloody freezing! Winter is actually coming. We were on the guestlist but when we got there, there was only one queue, so we had to 'punter up' and wait our turn to enter. Thankfully though, despite the hundreds of people still trying to get in, the queue moved quickly and we were soon in the club. It was rammed!
By all accounts, thanks to a great opening set from Melvo Baptiste, Room One was already going off by the time we had got drinks and entered the room. Purple Disco Machine was DJing by this point and he really is on fire just now. His remixes of classic dance music are adding new life to many great tunes and his rise to fame has really worked in tandem with the growth of the Glitterbox brand. His music epitomises what the night is about. As you would expect, he was dropping many of his edits, possibly adding in various acapellas over the top and the crowd roared their appreciation on the tracks they recognised. It still wasn't even midnight yet!
At this point, Room Two was much quieter and was a tougher gig for Natasha Kitty Katt. It's hard to compete with a room that is the main focus for everyone that arrives in the club, despite what may be on in the room. She held her own though, building a great vibe and a keen dancefloor with her beats. By the time she had handed over to John Morales, he had a decent room to work with.
John then took the room on a great journey of disco house music and the room got busier and busier as the night progressed.
Over in the main room, Todd Terry had arrived to close the night and he didn't disappoint. The crowd were looking for anthems to finish with a bang and he eagerly supplied them, dropping classics like Stardust, Nightcrawlers and Ce Ce Peniston.
And then, it was all over. Glitterbox had rolled back into Glasgow and again, reminded clubbers young and old why there is nothing better than house music. Especially with a disco flavour. Amazing.
© justaweemusicblog.com