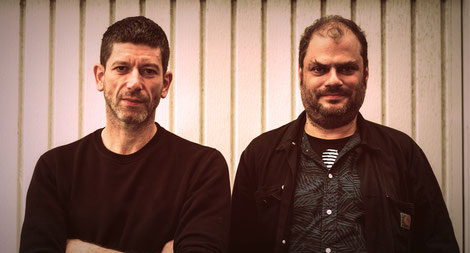 About to embark on an Australian tour, Twitch and Wilkes of Optimo have nearly 60 years of DJ experience between them. Developing their style amidst an Eastern Belfast background in the '80s, venues such as Sub-Club and their very own club Pure, acted as the vehicles for the pair to express their DJ style freely, and in turn become synonymous with the heavy tech-electronic sound that Glasgow is known for. 
Since then, their creative ventures such as the Optimo event have proven popular within the UK, and their labels Optimo Records and Optimo Trax have released some decent tracks. Having apparently played headline sets at festivals AVA, Dekmantel, and DGTL, Optimo get ready to return to Australia for five headline shows. 
Optimo is DJ duo Twitch and Jonnie Wilkes, whose Optimo night in Glasgow (and around the world) mixes up techno, electro, rock and other assorted records out of left field. It started in 1997, though Twitch and Jonnie Wilkes had each been DJing separately for ten years. 
Both had started out playing different music - Twitch - electro, noisy rock and the '80s New York punk-funk of Liquid Liquid (from who they borrowed their name) and Wilkes reggae, funk and jazz. Then techno came along and Twitch co-founded possibly Scotland's first techno club, Pure, which ran for ten years,  and apparently was the first club in Europe to book Jeff Mills, Green Velvet and Richie Hawtin. The club also spawned three labels which released music from artists such as Coil, Chris and Cosey, Jimi Tenor and Orlando Voorn. 
In 1997 they founded the club night Optimo as a reaction to 4/4 techno all night long. Anything goes was the philosophy and the club night proved to be a hit. "I didn't care whether it would work or not, or whether anyone would go, it was just something I had to do," says Twitch. "I love DJing with all my heart but at this point, I was so bored with seamless mixing - it was all just too obvious, too predictable and too easy - that I had to do something to preserve my (in)sanity."
At Optimo, depending on the duo's mood, the sound will veer from sleazy funk to post-punk, electro, '50s swing and anything in-between. These days Optimo is taking the sound to the world with dates across Europe, America and Japan. 
© justaweemusicblog.com
Tour Dates
Friday 1 March: Sugar, Adelaide
Saturday 2 March: Animals Dancing, Melbourne
Friday 8 March: Pitch Music and Arts, Victoria
Saturday 9 March: Paradise Club, Sydney
Saturday 9 March: Catacombs, Auckland NZ