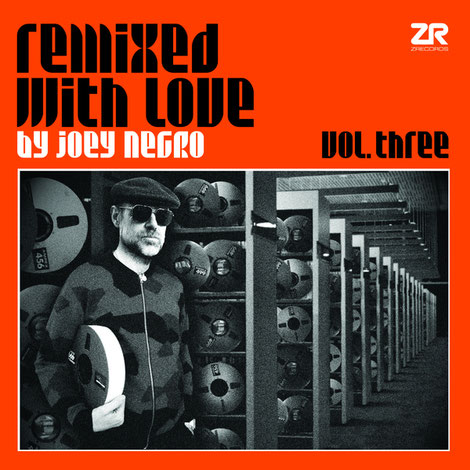 'Remixed With Love Volume 3' is the latest edition of Joey Negro's disco remix series, as he once again turns his hand to some of the best-loved records ever committed to wax. The album has apparently been a real labour of love, and a release several years in the making. With original parts for some of these classics hard to find, and with major labels rightly protective of songs created by the artists, the project is now complete and ready for release. 
Dave Lee: "I can clearly remember in the '80s having fantasies about being a remixer and dreaming of tweaking my favourite songs and re-releasing them. I really never thought it would happen. The days when I receive the parts for some of these classic recordings are literally a dream come true." 
As with previous volumes, Lee has put his own spin on more than a dozen records, with The Fatback Band, Patti LaBelle, Evelyn "Champagne" King, Odyssey and many more vying for attention across a three part gatefold double vinyl, double CD and digital release.
Dave Lee: "Some songs I've wanted to get access to the multi for ages turn out to be far less straight forward than I imagined. You know it's a great track, but unlocking the key to doing a worthwhile new version doesn't always come easy. To make more of a feature of one element sometimes means there has to be less of something else. There are many decisions to be made, lived with, revised, maybe reversed until finally your gut tells you it's about right."
Released back in 2016, 'Remixed With Love Volume 2' included exclusive reworks of classic soul and disco records all from the original master tapes, with the collection going on to be Traxsource's best-selling of 2016, reaching top 30 on iTunes album chart, and also being named DJ Mag's compilation of the year.
All the remixes here are 100% new and exclusive to the compilation.
Dave Lee: "Judging from comments and suggestions I get from people online thankfully there is still a large appetite for re-workings of 70/80s material, something you can't bank on when you embark on the project. I hope you enjoy the music."
Remixed With Love Vol.3 is out 16 November on Z Records.
© justaweemusicblog.com
TRACKLIST
Part One
Record One 
A1 The Fatback Band – (Are You Ready) Do The Bus Stop (Joey Negro London Bus Stop Mix)
A2 Patti LaBelle – It's Alright With Me (Joey Negro Extended Disco Remix)
B1 Evelyn "Champagne" King – I'm In Love (Joey Negro Tribute To Kashif Mix)
B2 Slave - Party Lites (Joey Negro Boogiefied Mix)
Record Two
C1 Gladys Knight & The Pips – Bourgie', Bourgie' (Joey Negro Super Bourgeoisie Remix)
C2 Sister Sledge - You Fooled Around (Joey Negro Fooled Around With Mix)
D1 Odyssey – Going Back To My Roots (Joey Negro Disco Re-Blend)
D2 Ashford & Simpson – Found A Cure (Joey Negro Found A Dub Mix)
Part Two
Record One
A1 Michael Wycoff – Looking Up To You (Joey Negro Super Sweet Mix)
A2 Earth, Wind & Fire – Can't Let Go (Joey Negro Elevated Mix)      
B1 Booker T. - Don't Stop Your Love (Joey Negro Paradise Mix)
B2 L.T.D. - Love To The World (Joey Negro Mizell Magic Mix)
Record Two
C1 Mtume – So You Wanna Be A Star (Joey Negro Disco Re-Blend)
C2 Brenda Russell - Way Back When (Joey Negro Extended Disco Mix)
D1 Eddie Kendricks - Going Up In Smoke (Joey Negro Big Smoke Mix)
Part Three
Record One 
A1 Glenn Jones – I Am Somebody (Joey Negro Finessed Remix)
A2 Patrice Rushen – Never Gonna Give You Up (Joey Negro Re-Grooved Mix)
B1 Samuel Jonathan Johnson - You (Joey Negro Zoned In Mix)
B2 Deniece Williams - Free (Joey Negro Re-Grooved Mix)
Record Two
C1 Venus Dodson - Shining (Joey Negro Tribute To Leroy Burgess Mix)
C2 Gwen McCrae - Doin' It (Joey Negro Soulful Reprise)
D1 Mass Production - Shante (Joey Negro Cosmic Funk Mix)