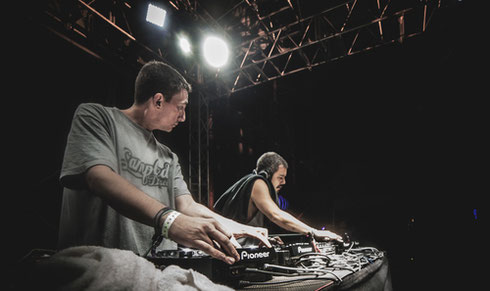 Following a summer of high-profile gigs at possibly some of the biggest clubs and festivals in the US, Golf Clap will be hitting the road on a 23-date tour over the coming months. Releases on Simma Black, their own Country Club Disco imprint and Kerri Chandler's Madtech have announced Golf Clap as a possible musical force to be reckoned with, however it's behind the decks where they apparently come into their own.
Regulars at clubs like Output in New York, Primary in Chicago, and Grasshopper Underground in Detroit, they have also performed at festivals Movement, Electric Forest, and Brooklyn Electronic Music Festival, and are adept at crafting highly creative, energetic sets across four decks: live remixing, tweaking and layering up effects and of teasing out the music aiming for maximum dancefloor impact.
The autumn tour comes off the back of huge warm-up show for Disclosure, and three-hour back to back session with Skream, and various other parties at North Coast Music Festival, Vertex and more.
© justaweemusicblog.com
GOLF CLAP US TOUR DATES:
9/2 North Coast Music Festival - Chicago
9/3 Riverside Groove Festival - Detroit
9/9 Russell Industrial Center w/ Travis Scott, Mr Carmack - Detroit
9/10 Golf Clap & Friends - Blind Pig - Ann Arbor
9/11 Golf Clap & Friends - TV Lounge - Detroit
9/16 Golf Clap & Friends - FYI - Charlotte
9/17 Golf Clap & Friends - Bearded Iris - Nashville
9/23 Country Club Disco w/ Roger Sanchez - Grasshopper - Detroit
10/1 Country Club Disco w/ Huxley - TV Lounge - Detroit
10/13 Night Bass - Sound - LA
10/14 Kremwerk - Seattle
10/15 Cloak & Dagger Festival - Vinyl - Denver
10/20 The Funktion - Orlando
10/21 Justin Martin & Golf Clap - CODA - Philadelphia
10/24 Bassbin - Billy's Lounge - Grand Rapids
10/28 Country Club Disco w/ Hannah Wants - Annex - Detroit
11/3 Deeper - Shrine Foxwoods - Connecticut
11/4 F*ck A Genre Tour - Magic Stick - Detroit
11/5 F*ck A Genre Tour - The Mid - Chicago
11/18 1UP - Reno
11/19 (info coming soon) – Phoenix
12/9 Site 1A - Milwaukee
12/16 Kingdom – Austin