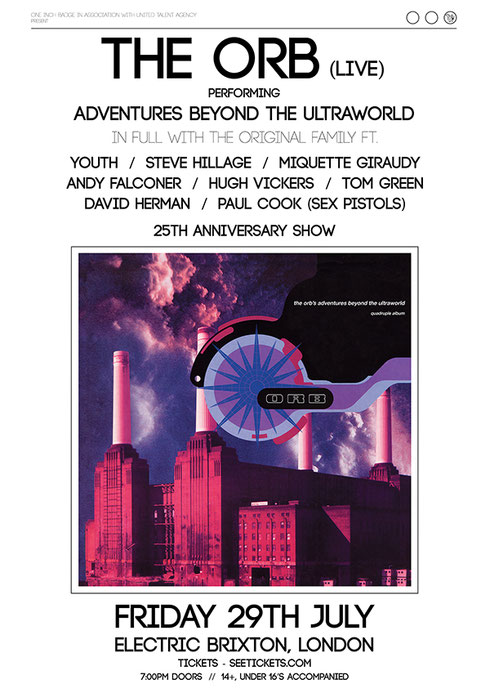 On Friday 29 July, psychedelic electronic artists The Orb will perform their seminal debut album 'Adventures Beyond The Ultraworld' in full for the first time ever, to mark its 25th anniversary. For this special sliver jubilee gig, Alex Paterson and Thomas Fehlmann will be joined on stage at Electric Brixton by the original cast of collaborators who helped create the music on this influential, era-defining milestone, plus a special punk icon whose music heavily influenced The Orb.
Paul Cook of Sex Pistols fame will guest on drums and fellow punk legend, Youth, ex-Killing Joke, and original Orb member and 'Little Fluffy Clouds' co-writer will join on bass.
Psychedelic-electronic-prog heroes Steve Hillage and partner Miquette Giraudy of Gong & System 7 co-wrote 'Supernova' and 'Backside Of The Moon', and will also bring their touch to the show.
'Ultraworld' contributors Andy Falconer, Tom Green and Hugh Vickers will also guest, whilst original Orb lighting man David Herman will transform Electric Brixton into a vintage fractal technical wonderland. 
Amidst the late-80s fervour of acid house, The Orb explored their own meandering tangent, drawing on hip hop sample culture, krautrock, kosmische, ambience and a wealth of unusual and unlikely sound sources. In doing so they pioneered a more horizontally-inclined alternative to the jacking trax emanating from discerning nightclubs' main rooms.    
Following a limited number of prototype 12"s from early pre-Orb incarnations, 'Ultraworld' was The Orb's first fully-formed double album realisation of the sonic sculpture they'd been finessing, amidst a punk-schooled period of fertile, no-rules creativity.
The album was a critical and chart smash that soundtracked a generation. It still sounds amazing today and its influence on subsequent decades of dance music is immeasurable.
This gig follows Ultraworld's recent Record Store Day deluxe reissue, which was remastered at Abbey Road Studios and spread over 4-discs of 180-gram audiophile vinyl.
© justaweemusicblog.com