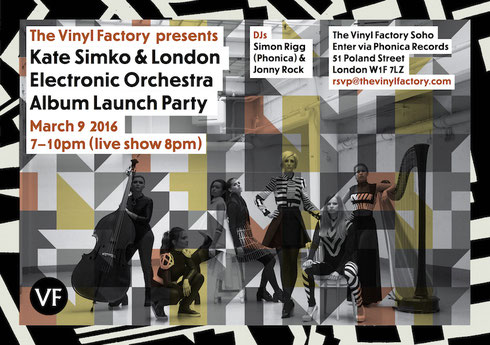 Keen to explore new creative avenues, producer, DJ, film scorer and composer Kate Simko ventures into unchartered musical terrain. This spring sees Simko and her London Electronic Orchestra release their self-titled debut LP - a project that showcases a symbiotic blend of orchestral soundscapes and electronic music. Kate began experimenting with combining classical instruments and electronic music while getting a masters at the Royal College of Music.
Kate  Simko: "Rather than design a synthesiser sound, I worked with players trying different techniques and instrumental combinations, and then we'd make recordings. I was studying Composition for Screen, but ended up on a detour experimenting with orchestral instruments, seeing how I could combine them into electronic backdrops. The tones, ranges, and colour possibilities completely blew me away!  Writing for orchestra is definitely the most exciting thing I've learned in my adult life."
A classically trained pianist, the Chicago native has been remixing Philip Glass, collaborating with Jamie Jones, producing for Katy B, touring an audio-visual live set, and playing to audiences from London to Ibiza with her LEO shows and at clubs worldwide as a DJ. 
For Kate it all goes hand in hand. "To me DJ'ing is live composition,'" she explains. "It's an improvisation. You're choosing music for the moment. And that spontaneity is channeled into London Electronic Orchestra."
Kate composes the orchestral parts and produces the original LEO songs in their entirety.  But she is the first to say that collaboration is a key component to the project.  
"One of the things that bonds us is that we're all taking our past experiences as musicians into a slightly new context. LEO is about showcasing these ornate instruments in a new way, letting the players have their own moments to shine, and working with other creative collaborators to make it all happen."
Fresh from engineering ASAP Rocky's new LP, Grammy-winner Bea Artola recorded the majority of the album in London. The record was mixed in New York by Dan Bora, who's worked with artists such as Laurie Anderson, Sufjan Stevens, Nico Mühly and Matmos, and is Philip Glass' main sound engineer. 
"When I first heard electronic music it was an instant obsession," says Kate. "It really struck me that both classical and electronic genres take you on a journey without words. The melodies, colours, and soundscapes let your imagination go on your own personal trip. That abstract freedom is what I love the most."
The album is out 6 May on The Vinyl Factory.
© justaweemusicblog.com