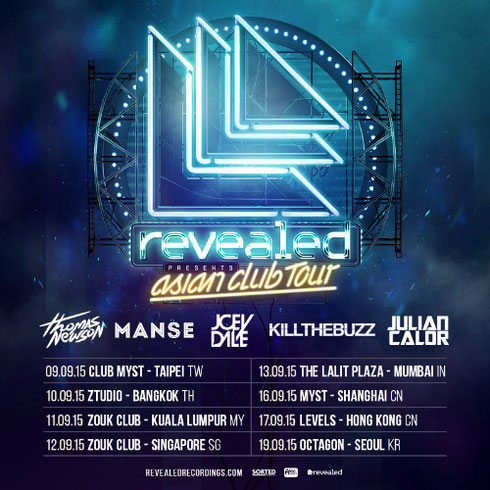 This September, Hardwell's Revealed Recordings will be taking their eclectic roster to Asia for a run of tour dates through Mumbai, Kuala Lumpur, Hong Kong, Shanghai, Bangkok, Singapore, Taipei and Seoul. The artists are set to journey into the heart of Asia with nights at possibly some of the biggest and best clubs on the continent. 
Party goers can expect sets showcasing talent from within the Revealed Recordings ranks of DJs as they journey to venues including 'Levels' in Hong Kong, 'Octagon' of South Korea and a night in Zouk under the shadows of the lavish Singapore skyline, the latter two ranking at 9th and 7th respectively on DJ magazine's Top 100 Clubs in the World.
Included on the tour are Julian Calor, apparently praised by a spectrum of artists from Pete Tong to Diplo and fresh from a set at this year's Tomorrowland, joins emerging progressive house DJ Joey Dale, returning to Asia after a brief excursion at the end of 2014. Kill The Buzz, the Dutch big-room DJ and already a Revealed veteran with three years on the label already under his belt is also on board, as is 24-year-old Swedish DJ/producer Manse, who will be joining the gang alongside Holland's Thomas Newson.
Check the dates below:
9/9/2015: Club Myst - Taipei, Taiwan                                    
10/9/2015: Ztudio – Bangkok, Thailand                                 
11/9/2015: Zouk – Kuala Lumpur, Malaysia     
12/9/2015: Zouk – Singapore, Singapore  
13/9/2015: The Lalit Plaza – Mumbai, India
16/9/2015: Myst Club – Shanghai, China     
17/9/2015: Levels - Hong Kong, China                  
19/9/2015: Octagon – Seoul, South Korea

© justaweemusicblog.com