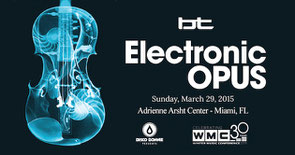 Electronic Opus is a unique and immersive symphonic/electronic concert event featuring the greatest hits from the award winning DJ, performer and film composer Brian Transeau (aka BT). Teaming up with Disco Donnie Presents and TanZ Group, the worldwide, multimedia show will combine top orchestras along with the multi-faceted on stage talents of BT--including vocals, guitar, piano/synth and DJing. 
The show will include exclusive, synchronised HD video footage and music arrangements set to synchronised lighting provided by the production company, Volvox Labs, as well as unique interactive segments to create an explosive entertainment experience. The first performance will debut on 29 March in Miami, FL at the Adrienne Arsht Center during the Miami Winter Music Conference.

The Creative Director and Executive Producer of the show is 25 year video game industry veteran Tommy Tallarico. Tommy has been touring his worldwide, multimedia symphonic show Video Games Live to millions of people for over 10 years. Video Games Live is apparently considered the most successful live symphonic multimedia touring show ever and, according to Symphony Magazine (Fall 2012) and Guinness World Records, has helped to define and change the entire business of orchestral performances. 
For more info, check: www.electronicopus.com