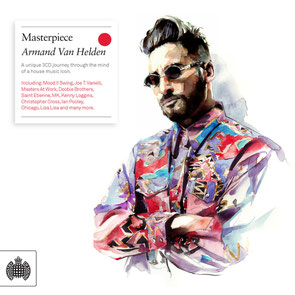 Armand Van Helden presents the next instalment of Ministry of Sound's 'Masterpiece' series, available from 15 February. The 'Masterpiece' series is a concept fronted by high profile DJs an is an opportunity for the artist to curate a three disc musical journey that depicts their own influences and inspirations to share with their fans. Previous versions have came from Goldie, David Rodigan, Andrew Weatherall, Fabio & Grooverider and Gilles Peterson.
Crafting beats from a very young age, it was in 1991 that Van Helden began working on production for the remix service X-Mix Productions (founded by his future manager, Neil Petricone). His big break quickly followed in 1992 when he released Deep Creed's 'Stay On My Mind' on Nervous Records – the result of playing one of his production demos for the dance A&R Gladys Pizarro.
Boston's early house venue The Loft is where Armand truly cut his teeth as a DJ, with his residency helping to make it one of the most popular underground clubs in the city. On the first disc of the compilation, he revisits his days at The Loft, recalling a place where Mood II Swing swung their trousers next to early Masters At Work remixes. 
It's precisely the wide variety of genres he favours that makes his second disc - entitled 'Yacht Rock Don't Stop' – so rich. The mix is a homage to his parents' record collection, as he explains: 'when you're in the ages of let's say 6-10 years old, the music you're exposed to will stay with you forever. In those particular years, my folks would constantly play their records at home but at nightclub volume: home stereos were big then. Steely Dan, Fleetwood Mac and the Doobie Brothers were regulars.'
Following his Yacht Rock exploration, the lost era of freestyle becomes the focus of Armand's third disc. A short-lived, soul-tinged genre that took in artists like Stevie B, Lisa Lisa and Shannon, Armand takes the opportunity on 'Forever Freestyle' to shine a light on this underrated branch of dance music: one that is vital to his curated collection.
Van Helden's chart success includes three official UK number 1's: 'U Don't Know Me' (1999), his remix of Tori Amos' 'Professional Widow' (1996), and 'Bonkers' (2009); his collaboration with Dizzee Rascal. He also boasts Top 10 hits with 'Koochy' (2000), and 'Barbra Streisand' (2010) - the second single from Duck Sauce, his collaborative project with A-Trak. 
© justaweemusicblog.com