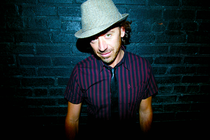 Benny Benassi's latest track, 'Shooting Helicopters', comes with a big twist in that he's recruited rock music's Serj Tankian, (from System Of A Down), to create a compelling big room track. The track is a song that takes full advantage of Serj's vocal range. His heartfelt lyrics and quirky delivery builds until Benny releases an electro storm onto the dance floor. 
What you have with 'Shooting Helicopters' is the finished product for an idea that started well over a year ago. Benny always admired Serj's talent but wasn't sure he'd want to work with an electronic dance music producer - they met for the first time in Los Angeles in mid 2013 and hit it off immediately. They started bouncing ideas backwards and forwards and spent about six months refining the track that has become 'Shooting Helicopters'.
Benny: "The idea of bringing Serj's vocal style into our musical environment was a real challenge. As soon as Alle and I started experimenting with the music under the vocals, I was immediately struck by the atmosphere of the song which is decidedly different from most things you here at the festivals I play at and unlike anything we've done so far, ourselves. I started playing embryonic versions out, especially as a set opener and the effect was devastating. We kept working on the music until we were 100% satisfied. I'd like to thank Serj for being part of this. Respect."
Check it out below.
© justaweemusicblog.com