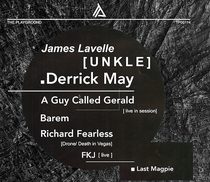 The Playground returns to KOKO on 16 August with a lineup including headliners James Lavelle [UNKLE], Derrick May and A Guy Called Gerald (live in session) who will be performing a iive performance alongside Barem, Richard Fearless (Drone/ Death In Vegas), French Kiwi Juice (live), Last Magpie and more.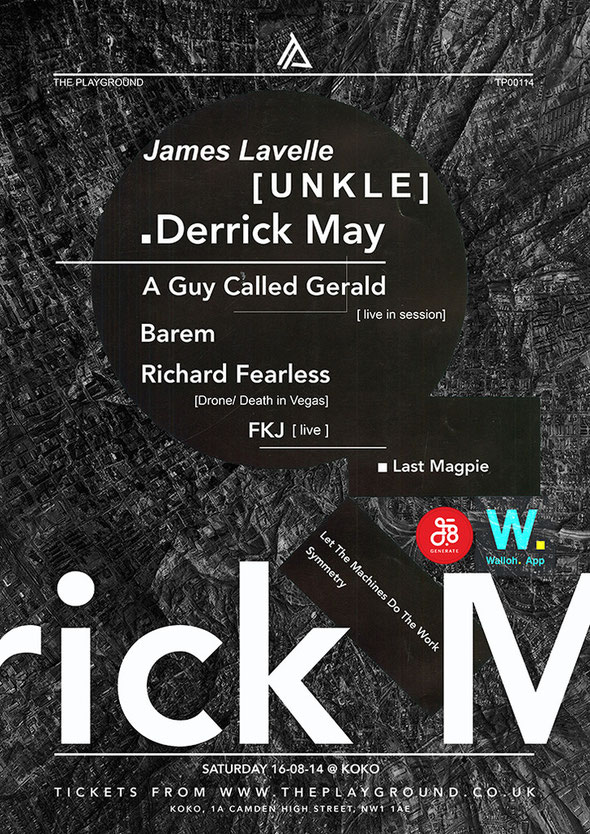 James Lavelle helped shape the trip hop genre with his Mo' wax label and performed a five year residency at fabric, as well as DJing in other major clubs like Zouk and Womb. "Daydreaming with…. James Lavelle" was launched at London's Museum Of Mankind and has produced collaborations with artists like Jonathan Glazer, 3D, Jonas Burget, Doug Foster and Turner Prize nominee Nathan Coley. His label, Mo'Wax turned 21 this year and to celebrate he included an interactive exhibition, Mo'Wax 21: Urban Archaeology, showcasing the creative output of the label.
Derrick May, one of the Belleville Three, who gained huge success during Britain's house explosion with his hit 'String Of Life', described by Frankie Knuckles as "... something you can't imagine, the kind of power and energy people got off that record when it was first heard."
A Guy Called Gerald is the first, if not the only, acid house producer to have two instrumental dance tracks in the UK charts at the same time. His visions, versatility and open-mindedness possibly helped forge the development of global dance culture and helped to pioneer the jungle/ D&B scene with tracks like '28 Gun Badboy' and his critically acclaimed 'Black Street Technology' album.
Barem is a good example of the new breed of electronic musician brought up in the digital age, using intuitive software like Reason and Ableton to express emotion and ideas. His DJ sets infuse warm, Latin rhythms with his favourite tracks from a cross section of electronic genres past and present.
Richard Fearless (Death In Vegas) won a scholarship in his early teens to nurture his own artistic talent and soon discovered Chicago house and techno via ex-NME staffer Barbara Ellen and unearthed a whole new set of possibilities. 1997's 'Dead Elvis' LP and its follow-up, 2002's 'Scorpio Rising' (featuring collaborations with Iggy Pop, Dot Allison, Paul Weller, Liam Gallagher and more) established Death in Vegas as a dance/rock crossover act.
French Kiwi Juice (live), better known by the abbreviation FKJ, has a a growing London fanbase with previous sold out shows at The Rhythm Factory. Here he returns for another exciting live show.
Last Magpie aims to keep his style quite open and unspecific to any one genre under his Magpie moniker drawing from elements of house, techno, dub and garage (UK & US) with a hint of old school jungle.
For more info, check: www.theplayground.co.uk
© justaweemusicblog.com