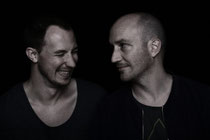 Kris Menace and Simon Lord have teamed up for a new electronic pop project. DJ/producer, Kris Menace, has worked with the likes of Depeche Mode, LCD Soundsystem, Royksopp and Lana Del Rey amongst others, while his musical partner, Simon Lord, has a resume just as impressive. Simon was a member of Simian, with whom he won Best Music Video at the MTV European VMAs, Black Ghosts, and provided the vocals for 'We Are Your Friends', which Justice remixed.
Now the two have teamed up for a brand new musical project, simply dubbed Menace & Lord, bringing together Kris' flair for electronic production and Simon's individual voice and knack for a pop hook, making a feel good album with panoramic scope.
Menace & Lord: "We wanted to make a collection of songs that are a soundtrack to the times you lose yourself in the moment… whether it's in the club, in the sunshine with friends or staring up into the night sky."
The pair first started working together on a collaboration for Kris' 'Features' album. The resulting track seemed like the first step on an exciting new path. The music kept flowing and after bonding over late studio nights, the pair decided to become
'Menace & Lord'.
The duo will release their debut album on 15 September 2014. Entitled 'Sun, Moon and Stars', it will be followed up with videos. Their first single, the album's title track, is available now as an instant grat download to anyone pre-ordering on iTunes, with a new music video to follow soon. Check it out below.
© justaweemusicblog.com