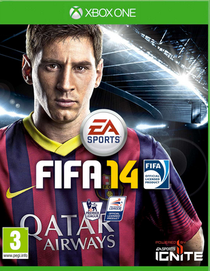 EA SPORTS™ recently announced the FIFA Ultimate Team, Team of the Season for the Barclays Premier League. The starting XI was revealed as Petr Čech, Leighton Baines, Vincent Kompany, Per Mertesacker, John Terry, Eden Hazard, Yaya Touré, Steven Gerrard, Aaron Ramsey, Luis Suárez and Daniel Sturridge, with the substitutes and reserves as David Marshall, Séamus Coleman, Azpilicueta, Adam Lallana, David Silva, Raheem Sterling and Sergio Agüero.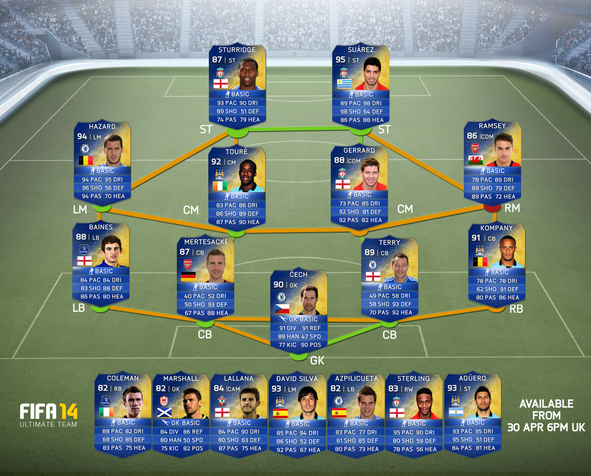 As well as making the Team of the Season, Daniel Sturridge has been revealed to be the highest scoring Barclays Premier League player in FIFA 14 Ultimate Team with 34,800,362 goals. Sturridge's strike partner Luis Suárez is the 10th highest scoring player with 13,065,556 goals.
Second place in the goal-scoring charts went to Chelsea striker Samuel Eto'o with 30,578,146 goals. Aston Villa's Christian Benteke (26,382,579 goals), Newcastle United's Loïc Rémy (21,366,615 goals) and Chelsea's Fernando Torres (20,093,762 goals) make up the remaining places in the Top 5 of the FIFA 14 Ultimate Team top goal-scorers chart.
Check out all the positions below:
FIFA 14 Ultimate Team Top Goal-Scorers – Barclays Premier League
Forwards
1.       Daniel Sturridge (Liverpool FC) – 34,800,362 goals
2.       Samuel Eto'o (Chelsea FC) - 30,578,146 goals
3.       Christian Benteke (Aston Villa FC) – 26,382,579 goals
4.       Loïc Rémy (Newcastle United FC) – 21,366,615 goals
5.       Fernando Torres (Chelsea FC) – 20,093,762 goals
Midfielders
1.       André Schürrle (Chelsea FC) – 11,772,194 goals
2.       Samir Nasri (Manchester City FC) – 9,612,593 goals
3.       Santi Cazorla (Arsenal FC) – 7,278,274 goals
4.       Oscar (Chelsea FC) – 7,045,177 goals
5.       Nani (Manchester United FC) – 6,745,229 goals
Defenders
1.       David Luiz (Chelsea FC) – 5,681,990 goals
2.       Vincent Kompany (Manchester City FC) – 3,522,154 goals
3.       Nemanja Vidic (Manchester United FC) – 2,682,706 goals
4.       Jan Vertonghen (Tottenham Hotspur FC) – 2,489,126 goals
5.       Laurent Koscielny (Arsenal FC) – 2,469,715 goals
© justaweemusicblog.com