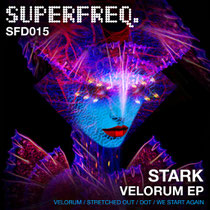 Superfreq celebrate 12 years in action in 2014, and a year or so after re-launching the label. This time it's Stark who are releasing their 'Velorum EP', featuring four tracks inspired by the star system after which it is named: Velorum is in the constellation Vela at magnitude +1.7 and is one of the brightest stars in the night sky. Stark is a live act consisting of Simon Granger and David Gooday, the latter of which was one of the founder members of British act Nitzer Ebb. 
The track 'Velorum' goes first and is a suitably widescreen bit of tech house with a night sky full of starry melodies. Down below, grinding, menacing beats and bass interact as little synth made life forms scurry about in their midst. 'Stretched Out' is the sort of freaky and tripped out track perfect for after parties. A gurgling melody rises and falls down the scales as squelchy acid sounds vie for your attention in the background. It's stripped back, abstract music that sends your mind into overdrive as your head nods appropriately.
The house leaning 'Dot' establishes a more recognisable groove with sandy hi hats and drilling beats. Taught synths spring about, as do off kilter chords and left of centre horn toots and the whole thing is a curious and quirky house track. Closing out is 'We Start Again', a shifty house track with thick, bold basslines and colourful synths. Muffled and echo drenched vocals add a slight human element to it. It's out 31 March.
© justaweemusicblog.com