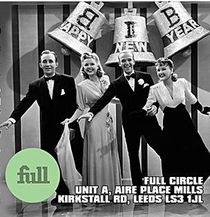 Back to Basics is coming back together for one more party in 2013, this time on New Year's Eve with Chicago house DJ Chez Damier playing with Ralph Lawson, James Denny, Frenchy, Tristan da Cunha and founder Dave Beer.

Dave Beer: "Calling the troops and all Basics faithful, after an amazing birthday party, I couldn't let a small thing like not having a venue stop us bringing in the New Year as we have done for the last 22 years. So, after scouting about to find the perfect venue, I've found it at Full Circle. So, as a last minute decision to go for it 'Ball's out', literally, we'll be holding the Basics NYE black and white balls up party at Full Circle, a perfectly formed intimate loft/art space. We'll be theming the night as a Black and White party, dress code Black and White to state the obvious!"
Throughout the '90s, Chez Damier helped to define deep house with his own EPs alongside cohorts like Ron Trent but also with Basics' Ralph Lawson. Together they made plenty of tracks as Urban Famers and recently one of them, 'A Dedication To Joss' got re-released recently and topped the Juno charts. Chez has recently remixed James Barnsely to add to the family feel of this party and has steered his Balance label through the ensuing years, releasing modern talents like Brawther as well as continuing to turn out his own essential offerings.
© justaweemusicblog.com