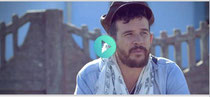 Back in March 2013, DJ/producer Luciano landed in South Africa with Bridges For Music for a series of workshops and events in the townships of Soweto (Johannesburg) and Langa (Cape Town). Bridges For Music is an international non-profit organisation supporting responsible development of electronic music in emerging areas, with a focused on promoting social cohesion by using music as a tool for empowerment. 
Founded in South Africa in February 2013 the project has gained support from global industry leaders and figureheads. The video below is an account of that visit, which aimed to bring people from different communities together through music and also to bring exposure to these underprivileged areas that have one of the most vibrant house scenes on the planet. 
Committing his time for free and refusing to play in the usual commercial environments, Luciano is anther one of the Bridges For Music ambassadors, who believes in the power of music in breaking down socio-economic boundaries and inspiring the youth. He was joined by local heavyweights Vinny da Vincy, Ryan Murgatroyd and Ready D who all participated in free workshops where they discussed music, technology and life. 
Following this, he played at the same venue for free, with special performances from Black Coffee, Kid Fonque, Thibo Thazz, Floyd Lavine, Diggin4dodge, Dilloxclusiv, Sir Vincent and DJ Fosta.
© justaweemusicblog.com