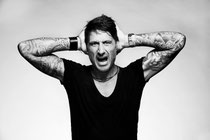 'Marco Bailey: The Documentary' is a full on look at the DJ/producer from fellow artists, friends, colleagues and of course, Marco himself. Viewers will get to see what it's like to be Marco from the most insiders' point of view of all, Marco's. He's been one of the constant fixtures in the techno scene, from the burgeoning rave movement of the early-1990s to his global touring card today.
Marco Bailey: "I decided to create a documentary so fans and people all over the world, who are interested in techno, could understand a bit more about who I am. I wanted to show where I come from, how it started and perhaps prove that paying to become popular -something I see happens too much nowadays on the social networks and pools- isn't fooling anyone. If you want it, you must work HARD for it!"
Marco is the kind of innovator that artists like Carl Cox and John Digweed can't speak highly enough of. In fact, both Carl and John appear in the documentary, each legend extolling Marco's skill and passion. And it's this passionate love of techno music that is truly what Marco's story is about. How a man, who never had designs on DJing, felt the power of techno one night that changed his life forever. Check it below.
© justaweemusicblog.com