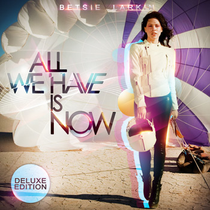 With the release of her first solo album, Betsie Larkin struck a major chord with electronic music audiences around the world. Enduring sales success, running 22 months straight followed, in turn spawning a string of top 10 charting singles. To do justice to its achievements, Premier Recordings recently released the all-encompassing Deluxe Edition of 'All We Have Is Now'.
Expanding to near three times its original length, it has burgeoned into a 30 track, 360 album compendium. Featuring 'All We Have Is Now's dance-floor originals, the Deluxe Edition now comes complete with a galaxy of remix version-excursions and official videos. Adding their input are producers such as Ferry Corsten, Solarstone, Manufactured Superstars, Roger Shah, Andy Duguid, Giuseppe Ottaviani, Lange, Tenishia, Save The Robot and others. 
The Deluxe Edition front-ends with her debut album's 12 originals. Included among them are 'Stars' with Ferry Corsten (instrumental in first discovering Betsie); the John O'Callaghan co-produced 'The Dream' and the harmonic mellifluence of the Super8 & Tab collab 'All We Have Is Now'. 'Stars' receives three reinterpretations, advancing it by degrees later and later into the night. On Ferry's Fix, Corsten takes his own night-sky melodies and works in a tougher, more floor-ready production base. Roger Shah's Pumpin' Island Remix incorporates ripping pitch-mods, while Tenishia's revamp charts a euphoric arc. 
On 'The Dream' the upscale progressive house of the Manufactured Superstars gets head-to-head kinetic with the hot-blooded drumatics of Jquintel & Jeziel Quintela. Throwing another style filter across it, Rafaël Frost remaps it with electro-set sequences and  elevating synths.Taking the album onto cooler, more trance-progressive waters, Daniel Wanrooy and Loverush! UK individually bring their nous and nuance to its title track. Expanding the sound dynamics of his original album version to full Club Mix length, Lange adds his touch to 'Obvious', utilizing all of Betsie's vocals.
Solarstone burns some piano-tinged Pure Trance into 'All We Have's system, subtly, vocoding the vocal, while Ireland's Sneijder amps and ramps the euphoric angles.On the mix of 'The Offering', both Andy Duguid and Save The Robot rock up a storm on Betsie & Sied van Riel's co-production. The Robot finally releases them into a maelstrom of feverishly stabbed synths. Duguid meanwhile recodes the track with a fusion of trance and house elements, looping its whoops to fine effect.   
Bringing a swansong-like vibe to the finale, Walsh & McAuley bestow 'Let It Shine' with a beatific, chilled ride-home rework. Magnifying the persuasive throb of the guitar, whilst allowing Betsie's embracing, uplifting lyrics full freedom to affect. With three of the single's official videos ('The Dream', 'All We Have Is Now' & the Giuseppe Ottaviani co-produced 'Toys') tying off the package, this is a top package.
© justaweemusicblog.com