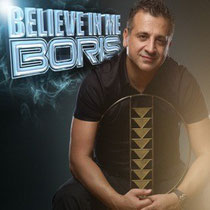 Boris' double techno album 'Believe In Me' is out May 6 on Nervous Records. Disc one is comprised entirely of Boris original productions and remixes and disc two is crafted around Boris' "Believe" DJ sets that have been a staple of the NYC club scene for over a decade. To celebrate its launch there will be an album release party at Pacha NYC tomorrow night. 
This showcase of Boris' talents as a producer, remixer and DJ demonstrates why his "Believe" brand has been influential over the last decade. Disc One is a techno lover's dream and it features Boris' own original tracks and remixes which have either been recently released or soon to be released on some of the genre's finest labels including Great Stuff, Kling Klong, Krone, Octopus, Sci+Tec and Toolroom, among others. Disc Two is the sound of Boris' "Believe" events captured in the mix. 
For over a decade Boris has been one of New York City and Miami's most beloved DJ/producers. His "Believe" parties at Pacha in New York and Space in Miami are among the two dance music capitals most popular and he consistently packs clubs in cities around the USA. His "Get Wet" pool parties during WMC are huge events, often running until the next day. Boris has adapted with the changing musical landscape and has found his calling card with techno. He's on a hot streak with releases on some of the world's finest techno labels and causing the genre's finest DJs to take notice.