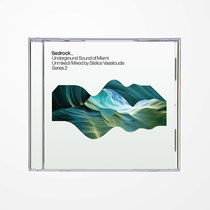 The second installment of the "Bedrock Underground Sound Of Miami" series continues where last year's debut left off and features 11 totally exclusive tracks selected by John Digweed from some new names to the Bedrock roster, alongside some of the label's favourite producers in the form of Robert Babicz, Pig&Dan, Marco Bailey and Guy J. 
The album comes in a DJ-friendly unmixed format, with a bonus mixed version by Greece's Stelios Vassiloudis.
John Digweed: "The first USOM last year was so well received that a second instalment was a very logical decision. We've been able to introduce some new artists to the label, whose tracks I've been playing out for the past few months and I love how we can include everything from the deeper house sounds of Robert Babicz and Phonogenic to the more full-on techno vibe of Japanese Popstars, all on one release. I've also been playing out with Stelios Vassiloudis at a few parties recently, so it was great that he was up for mixing together the bonus disc for this release as well as including a couple of his superb tracks."
It's out today.