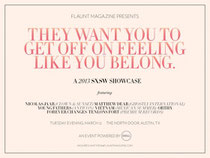 Lifestyle publication Flaunt Magazine recently announced its 2013 official South by Southwest (SXSW) music showcase for the festival on Tuesday, March 12, in Austin, Texas. The showcase, They Want You To Get Drunk On Feeling Like You Belong, will be held at Austin's The North Door and features a progressive mix of international and Austin-based talent.
The line-up consists of Nicolas Jaar (Clown and Sunset), Matthew Dear (Ghostly International), Young Fathers (Anticon), VietNam (Mexican Summer), Orthy, Forever Changes and Tenlons Fort (Premium Records).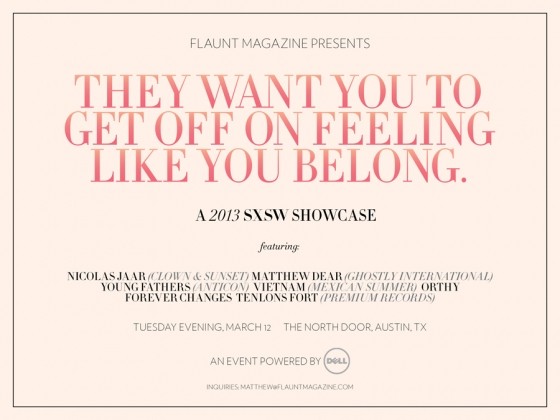 Flaunt Editorial Director Matthew Bedard says: "This mix pretty well reflects the nature of our publication's mindfulness to melding international energy with local leaders of culture. We didn't want Austin to be positioned as a vending machine as is often the case with SXSW; thus, we've secured two of the finest internationally touring electronic performers, Nicolas Jaar and Matthew Dear, both of whom are giving us exclusive performances, with rockers who have deep roots or are based in Austin [VietNam, Orthy, Forever Changes, and Tenlons Fort] and sweetened the deal with Scotland-based hip-hop group Young Fathers. As it goes, many of those included have been featured recently in Flaunt editorial."