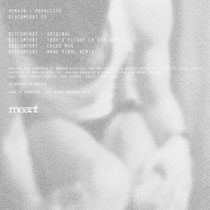 French electronic label Meant Records tee up their next release with the pairing of label boss Remain and Throne of Blood duo Populette, backed with remixes from Troy Pierce, Chloe and Marc Pinol. Meant Records has been at the heart of quality electronic music since opening its doors back in 2008. The French imprint owned by DJ/producer Remain has been behind releases from the likes of Rework, Vosper & Siskid as well as Remain's own output and has garnered support from DJs such as Dan Avery, Horse Meat Disco, My Favorite Robot and Agoria.
Now Remain steps up once again, this time joining forces with Throne of Blood duo Maxime Pasquier and Andrew Potter AKA Populette for a new single entitled 'Discomfort'. Remain has been at the forefront of France's techno/electro scene for several years now releasing music through labels such as Relish, Throne of Blood, Ideal Audio and of course Meant. French born Maxime Pasquier and US East coast native Andrew Potter met in 2003 and began throwing parties in and around NYC, they formed Populette in 2010 and have been at the heart of the success of the Throne of Blood label.
'Discomfort' is a slice of atmospheric, breaks driven electronica that truly showcases the production talents of all involved. Live drums are fused with dark edged synth lines, haunting FX and subtle vocal elements to create a swirling, disorientating, hypnotic record. The original version is backed up with a trio of remixes. The first comes from US' Troy Pierce who delivers a deep, dark workout that journeys to techno's outer realms, next is Chloe who turns in a version that mixes musical genres with its techno come disco feel and finally Spain's Marc Pinol comes up with a slo-mo rework that mines the depth's of modern electro disco. Out now on vinyl, out Dec 3 digitally.