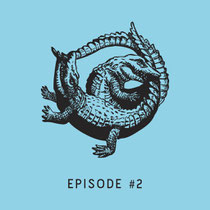 The Italoboyz Superfiction Recordings imprint drops its second release this month entitled 'Episode #2' by the duo themselves featuring a remix from German duo Luna City Express. Superfiction Recordings launched back in late July with 'Episode #1' by Italoboyz, featuring remixes from John Dimas & Cosmic Cowboys and Superfiction's teammie Blind Minded, earning early support from Ricardo Villalobos downwards, and then chart support from most of the usual suspects in the industry. 
The label's game plan is to release a variety of musical styles envisioned by label heads Italobaoyz, varying from techno and house through to electronica and disco, predominantly from the duo themselves as well as collaborative works and releases from up and coming artists. Here 'Digger Bick' opens the release, a boomy low-end driven cut with insistent drum programming and organic percussion acting as the building blocks. Italoboyz employ their usual intricate automation touches to create a blossoming dynamism alongside gangsta, old school rap lyrics, looped and reverberated, creating their own melodic movement. 'Caprizant' follows here, where Italoboyz team up with Blind Minded again, to deliver a pacey affair with the trio's rolling sub bass firmly implanted. Off kilter snare rolls and sporadic synth shots creep in throughout while a futuristic unrecognized spoken word vocal theme bamboozles throughout, in a wild and frantic fashion, taken up to the next level by picturesque Blind Minded touch.
Next up is the Luna City Express Remix and as you'd expect its eight and a half minutes of solid house deepness, the German duo rework the tracks initial vibe into a somewhat more ethereal feel, toning down the aesthetics and providing a smooth edge. It maintains a loopy feel for its duration with subtle envelope modulation on the synthesized and structured breaks and additional elements creeping in every thirty-two bars, resulting in a mood-driven German house tinged interpretation. It's out November 26 on vinyl and December 10 on digital.