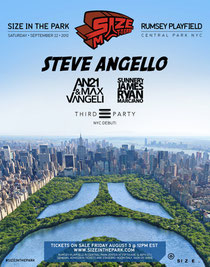 On Saturday, September 22nd, Steve Angello is bringing his "Size Matters" party to Rumsey Playfield in New York City's historic Central Park. The summer of 2012 may well go down as one of the finest in New York's dance music history. Experiencing "Size In The Park" is the perfect way to close out the summer in the city and it marks the only DJ event of its kind to be thrown in Central Park's Rumsey Playfield all season. "Size In The Park" will also be Steve Angello's first solo "Size Matters" show in New York City in over a year.  
In addition to a headline DJ set from Steve Angello, "Size In The Park" will feature DJ sets from AN21 & Max Vangeli, Dutch duo Sunnery James & Ryan Marciano and the debut New York City appearance of Third Party.
After embarking on an extended world tour, AN21 & Max Vangeli come to "Size In The Park" armed with brand new material from there forthcoming Size Records album, 'People Of The Night'. It's a good bet that they'll be playing their recent smashes including 'H8RS (with Steve Angello)', 'Whisper', 'Bombs Over Capitals' and the 'People Of The Night (with Tiësto)' title track. With early support from Size Records (Steve Angello scooped up their tracks 'Traffic' and 'Snitch' for release on Size), Sunnery James and Ryan Marciano gained incredible momentum in the dance scene. They've since embarked on a number of large tours and released attention grabbing tracks and remixes including 'Lethal Industry', 'Tribeca', 'We Are' and 'Ain't No Stoppin'.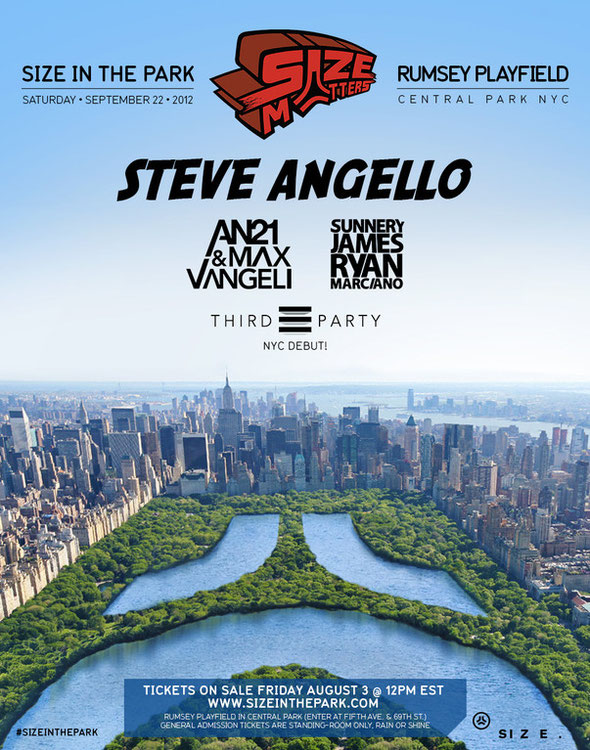 Third Party represents the exciting and young crop of new artists on Size Records. One of Steve Angello's promising new signings, this UK duo makes their New York City debut after impressing the dance music masses with their original tracks 'Duel', 'Release', 'Feel', their hot new collaboration with Steve Angello, 'Lights', and remixes of Red Hot Chili Pepper's 'Otherside', Swedish House Mafia's 'Save The World', Steve Angello & Alex Metric's 'Open Your Eyes' and Tiësto's 'What Can We Do (Deeper Love)', among others.  
"Size In The Park" will also feature a private stage front experience created and operated by the international nightlife venue Provocateur. The Provocateur 'Pop-Up' designed exclusively for Size is a fully self-contained luxury installation built to provide the finest hospitality. Tickets are sold out, for more info, check: www.sizeinthepark.com