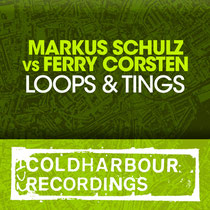 When they work as a tag team, Markus Schulz and Ferry Corsten have provided many memorable moments in 2012 so far, with notable back to back sets in Birmingham, Buenos Aires and Las Vegas to name a few. On each occasion, an easy highlight of their sets has been their resurrection of the classic 'Loops & Tings'.
On production value, it's two friends doing what they do best, paying homage to one of dance music's most iconic anthems. Originally released by Jens in 1993, 'Loops & Tings' exemplified dance music's explosion throughout Europe in the early part of that decade. The theme became even more familiar to listeners worldwide when Marco V applied his touch ten years after the original, yielding 'Loops & Tings' relooped. Now with Markus Schulz on the verge of releasing his fourth artist album, 'Scream', he and Ferry Corsten have dconceive a fitting tribute for 2012 dancefloors.
Debuted during Ferry's landmark eight-hour Corsten's Countdown episode 250, broadcast from New York City, 'Loops & Tings' has become an instant request in both DJs' sets. From the Electric Daisy Carnivals in Las Vegas and New York to the Godskitchen Boombox in Buenos Aires, and from Markus and Ferry's respective Ibiza residencies at Privilege and Eden, their recreation allows the new wave of clubbers to enjoy that instantly recognisable melody, transcended from their previous generation.