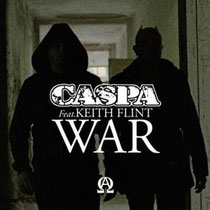 Underground dubstep artist Caspa is to release his major label debut, 'War', featuring the vocals of Keith Flint from The Prodigy. The single is set for release on 30th July. Directed by Matt Lambert, the video is set in a dystopian near future where a group of teenagers and young adults are getting ready to make their last stand against a rival tribe. 
You follow their journey as they prepare themselves for battle through the series of primal, nihilistic and guerrilla rituals. All this is juxtaposed by the strength of their community and love for one another.
Caspa: "Who wouldn't want to work with Keith? Growing up, The Prodigy were one of my influences. To actually work with someone like this is a big stamp of approval. One of my goals was to work with the idols I grew up listening to and that's what's happened with this track."  
Keith Flint: "I knew Caspa was the originator so I was really buzzed to be asked. This is a proper movement and I'm proud to be part of this track."
Caspa's influence on the bass/dubstep scene is profound. His musical progression has marked him out as a key proponent in spearheading the sound internationally and the USA in particular. Check it out below.