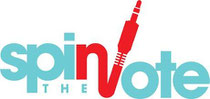 Insomniac and Rock the Vote joined forces to announce "Spin the Vote" reaching electronic dance music fans across the US and encouraging them to participate in the 2012 election.  Launched at the first Electric Daisy Carnival (EDC) New York over the weekend past, and at all Insomniac festivals in 2012, Spin the Vote is setting up an interactive experience providing festival goers with the opportunity to register to vote, receive election information and share their opinions on why voting matters. 

The initiative is supported online at www.spinthevote.org and on Twitter at @SpinTheVote, where individuals will be able to view video messages contributed by prominent artists and tastemakers in the electronic dance music community, as well as register to vote, volunteer, and check out photos from the festivals. Spin the Vote has already been on the ground at Beyond Wonderland 2012 in San Bernardino, California in March and at Nocturnal Wonderland in Texas in April, registering young voters and connecting with more than 65,000 festival-goers. In addition, Insomniac is promoting Spin the Vote across its online platforms and a video trailer was released just in time for EDC New York. 
"I'm very excited to be partnering with Rock the Vote in creating Spin the Vote, aimed at engaging dance music fans to participate in the upcoming election," said Pasquale Rotella, founder and CEO of Insomniac. "We're the first to encourage fans of electronic dance music to exercise their political power and have a voice, many of whom are passionate about protecting our community."
"Electronic Dance Music has expanded greatly in popularity and we believe that Insomniac's music festivals will provide a great opportunity to register thousands of new voters nationwide during 2012," stated Heather Smith, President of Rock the Vote. 
To keep up with the latest announcements related to Spin the Vote, check out spinthevote.org or follow Spin the Vote on Twitter at @SpintheVote.