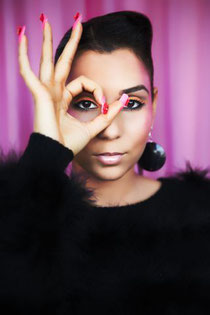 Released via Ny's own Dream Juice label under exclusive license to Cooking Vinyl on May 7, Ny's new single, 'Music', is taken from her forthcoming album 'Who Is She' and follows 1Xtra's Record of the Week 'Be With You', which also picked up plays from Fearne Cotton and Chris Moyles. A strikingly assured single boasting an addictive monster bass hook, 'Music' comes complete with mixes from Sunship, Ruffloaderz and Bill Posters.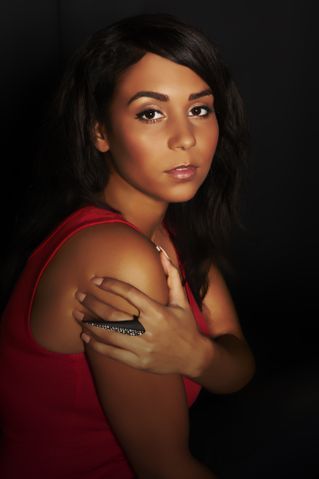 Ever since Ny's childhood - spent making music with instruments brought by her parents in lieu of a television - she had always known she wanted to be a singer. By the time she reached her teens Ny was appearing on pirate radio station Freak FM, singing jingles and helping out where possible. After entering a talent show at the age of 15, Ny began working for a company organising Under 18s raves. There she met Ms Dynamite who asked her to join her on tour; not to perform but to watch and learn.
Ny also started to get into grime, connecting with the freedom of expression the genre offered her. "It was just the feeling it gave me and the freedom to say what you want and be what you want and the level of expression people had. It was like doing poetry but over a beat. It's not the aggression, it's the passion that comes out." By the age of 17, Ny had moved out from the family home and had put together her first mixtape - sold in person around the West End for a fiver - with support from an impressive roll call of contacts including Plan B, Wiley and Professor Green. A follow up was then released through True Tiger Recordings, which lead to her appearing on Ironik's Top 5 single 'Stay With Me'. From there she joined best friend Tulisa Contostavlos and the rest of N-Dubz as support on their UK arena tour. "For me, doing arenas was next level. The power and adrenalin you get from standing on that stage, you don't want to get off," she exclaims. 
From her patient beginnings, this may finally be Ny's time. "For me, music's been a huge factor - like another parent, then a boyfriend, then it's been a friend and then it's been a child when it's acting up. It feels like it's trapped you in a little bubble and you don't even want to get away from it." Ny will tour wit Plan B at his forthcoming series of live dates across June and July.