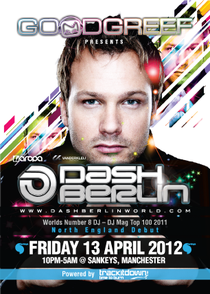 UK promoters Goodgreef make their 2012 debut at Sankeys and this time they're bringing the fast-rising global star, Dash Berlin, as headliner. The already highly decorated spinner – in 2011 he was 15 in DJ Mag's Top 100 Poll, and last year he reached No.8 – makes both his GG and Sankeys debut, as well as for the first time making an appearance in the north of the UK. Dash is one of the new breed of talent who demands to be seen and the Sankeys space is the perfect environment to see him in action.
The Dutch star started to make a name for himself through 2066, and it was the breakthrough track, 'Till The Sky Falls Down', which Armin van Buuren included on his 'Universal Religion' mix album, a well deserved accolade. A string of releases followed which further consolidated Dash's name in the trance scene, including debut album 'The New Daylight', followed by the double album 'United Destination', and its follow-up, 'United Destination 2011'. Dash is one of the most in-demand DJs on the planet right now, performing at Electric Daisy Festival in Las Vegas, A State Of Trance 500 in Buenos Aires, Eurofest in Mexico City, Mayday in Minsk and the Sunrise Festival in Kołobrzeg as well as the globe's leading clubs.

Support comes from Romanian vixen Claudia Cazacu, who along with her own huge Couture label has also released on Spinnin and Armada. She also reaches out on a truly global scale with her radio show, Haute Couture, which takes over 14 stations each month. Claudia's joined by Menno de Jong, the Dutch trance spinner who comes with great pedigree to his name, having travelled the world over many times taking in its biggest festivals and greatest clubs.
www.sankeys.info / www.goodgreef.com