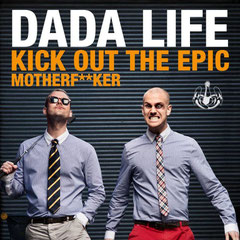 There are a lot of tracks out there that make a crowd go crazy but possibly only one that makes them go absolutely ape-shit bananas. We're talking about Dada Life's massive hit 'Kick Out The Epic Motherf**ker' – a smash that topped the Beatport Charts for over a month. Now it's back with a brand new vocal version which is out now on Island Records. Dada Life do a great show, packed with their own original tracks and remixes and accompanied by banana balloon drops, champagne bombs and fans that arrive in costume ready for anything goes. After a successful winter tour they are back in the States and caused a near riot outside the Parish at SXSW on March 12 when 4,000 fans showed up to the 450 capacity venue causing The Army National Guard to be called in. 
The hype continues throughout the spring with a lengthy tour featuring dates at the Ultra Music Festival in Miami on March 23rd and Coachella in Indio, California on April 15th and 22nd, among others. Since bursting onto the scene in 2006, Dada Life (aka Olle Corneer and Stefan Engblom) have had releases including 'White Noise/ Red Meat', 'Unleash The F***ing Dada', 'Just Bleep Me (Satisfaction)', 'Fight Club is Closed (It's Time For Rock 'n Roll)', 'Happy Violence' and 'Kick Out The Epic Motherf**ker'.
 
Dada Life has a cache of 40 remixes under their belt including their spin on Kaskade ('Dynasty'), Martin Solveig featuring Dragonette ('Hello'), Lady Gaga ('Born This Way'), Afrojack & R3hab ('Prutataaa') and Duck Sauce ('Big Bad Wolf'), among others. And, as software engineers, Dada Life is responsible for creating their own plugin, 'The Sausage Fattener', which is used by some of the biggest names in dance music.