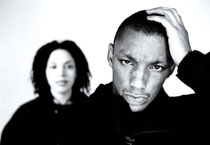 Sundance Institute and The O2 recently announced that musician, producer and actor Tricky will reunite on stage with vocalist/musician Martina Topley-Bird for the first time in 15 years to perform his award-winning debut album 'Maxinquaye in its entirety on Friday, 27th April, 2012 at the first-ever Sundance London as part of the four-day festival's music programme. Sundance London takes place 26 – 29 April and will feature the UK premieres of films fresh from the 2012 Sundance Film Festival which took place in January 2012 in Park City, Utah. Daily live music performances, discussions, panels and other public events will round out the four-day festival.  
On performing as part of Sundance London, Tricky said: "It's an honour to play the first Sundance London. To me, Sundance is like the opportunity Island and Chris Blackwell gave me; a chance for an artist to make their art without compromise for commercial reasons."
As a performer, Tricky is probably best known as a trail-blazer in the Bristol trip-hop scene of the early 1990s, and his album 'Maxinquaye' helped define 'The Bristol Sound.' Tricky first came to the public's attention performing and co-writing on three tracks from Massive Attack's critically acclaimed and multi-platinum debut 'Blue Lines' LP (1991). Expanding on the sonic template of his fellow Bristolians, and featuring then-girlfriend Martina Topley-Bird on vocals, 'Maxinquaye' is a dark, mysterious album featuring a combination of hip-hop, soul, dub, rock and electronica.  Alison Goldfrapp also featured on the track 'Pumpkin'. Signed to Island Records, 'Maxinquaye' proved a UK top three album success, selling in excess of 500,000 copies worldwide.  
Tickets are on general sale from today at: