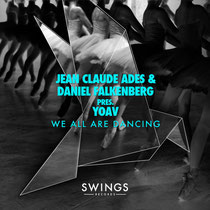 Do you like house music? Do you love sublime, intelligent and liquid vocals? Are you quite cool? If the answer to any of these three questions is a 'yes' then we think you are going to love Jean Claude Ades. JCA, as his fans call him, is an internationally renowned DJ, producer, songwriter and remixer originally from Italy, now based in Munich and Ibiza. His beloved label Swings Records has a policy of only bringing you the very best quality original work and his new release, 'We All Are Dancing', with Daniel Falkenberg featuring vocalist Yoav, fits the bill perfectly. Here he tells us how he acheived worldwide success with Danni Minogue, which DJs he respects the most and why it's good that Ibiza is changing...
Hi Jean, for those people who are new to you tell us a bit about yourself, where you are based, what style of music do you play and what are your inspirations?
I grew up in Italy, part of a musical family with a French father and German mother. I started my career as a producer in 1994 in Germany with a record called 'The Colour Of My Style' on Virgin Records. During this time I was also running my own club, so I had the right platform to try out my early productions every week, and I was producing many projects under different names for different artists until I found the passion for DJing. So I decided to produce my own records and in 2001 I produced my biggest track, 'I Begin To Wonder', Ft Dannii Minogue which became a worldwide hit. From that time on I was really busy in the studio and also playing shows around the globe. Now I am based in Munich during the winter and in Ibiza during the summer. Dance music has always been my passion and so I am extremely happy and thankful to be able to do this for a living. My favourite music at the moment is deep house and nu disco and my inspirations  are the clubs and the crowd I am playing for.
Who are the DJs that you most respect?  
I respect DJs like Carl Cox, DJ Hell, Richie Hawtin, Villalobos and Sven Väth, because they have being following  their musical philosophy for many years without being affected by the commercial market like many others.
In 2005 you established your own record label Swings Records under the wings of Great Stuff Records in Munich. Why did you make the decision to set up your own label?
Back then I wanted to create a label which I could direct and I wanted to develop my own brand and realise my musical philosophy.
What is your vision for the future? Is there a particular philosophy or idea that you follow?
This might be a motto that many other label makers share: "Musical freedom and originality". I love house, this is where I come from, but I also want to show a wider range with house tunes, still with soul and melodies. This is something I'm missing so I hope to fill a gap here.
Tell us about your recent release 'We All Are Dancing', what is its story? Who is the vocalist and do you know of any DJ support it has got recently?
A friend of mine Daniel Falkenberg from Berlin came up  to me one night during a party telling me he had an idea to remix a great track. So when he played me Yoav`s original version I fell in love with it immediately. I got in touch with his management to ask if we could have the acapella and vocal parts to make a dance track out of it. They also loved the idea and a short while after we went to the studio and made each mix. The original of 'We All Are Dancing' is from Yoav. He is a world-renowed singer-songwriter who`s worked with the likes of Joey Waronker (the producer and drummer for Thom Yorke), Beck, Smashing Pumpkins and R.E.M. just to name a few!
You´ve been going to Ibiza for over 15 years, have you noticed any
changes?
Yes, the first time I visited was in 1994 a lot has changed since then, but believe it or not, for me it has changed in a good way. You have to go with the progress, if something doesn't change it gets boring! Ibiza has developed a lot of new hot spots like Ushuaia, Lio and Blue Marlin over the years and also now it has a bigger party crowd from all over the world. It has become the centre of global dance music over the summer in Europe and every big DJ hits the Island at least once in the summer. It's like WMC or ADE but this party goes on for almost five months. It's the perfect spot to connect and to feel the new vibes and sounds. There's a bit of everything for everyone, which I enjoy being part of!