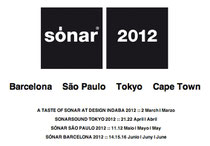 Cape Town, without a doubt one of the most interesting and dynamic cities in Africa, is Sónar's first destination on the continent. The city is South Africa's leading tourist destination, and is renowned for its cultural and economic dynamism and its open and cosmopolitan spirit, ideal for the convergence of creativity from all over the world. That is precisely the philosophy of Design Indaba, a multidisciplinary event that has been bringing together leading figures in design, advertising, film, fashion, architecture, the visual arts and, of course, music, in Cape Town since 1995. 
Participants in previous years include Brian Eno, Chris Blackwell, Ferran Adrià, Jaime Hayón, Peter Saville and Hugh Masekela, and among those present this year will be the award-winning French designer Mathieu Lehanneur, the British studio UVA (creators of shows by Massive Attack, Jay Z, The Chemical Brothers and Battles, among others), the Danish chef René Redzepi (whose restaurant, Foma, has recently been named the best in the world), the Norwegian researcher Sissel Tolaas, a luminary in the study of scents, and digital collaborator duo Chris Milk and Aaron Koblin, who brought you digital, interactive music videos like Arcade Fire's 'The Wilderness Downtown', 'The Johnny Cash Project' and '3 Dreams Of Black'.
"A Taste of Sónar", taking place at the Cape Town City Hall on 2 March, presents an exciting range of art, in which the musical lineup is as important as the audiovisual selection at SonarCinema. Music and cinema are mutually complementary and provide a more comprehensive view of the sonic spectrum on offer at Sónar's first foray into Africa.
As usual for the festival, the venue for "A Taste of Sónar" is a unique and very distinctive landmark. This is particularly true in this case, as the City Hall in Cape Town – an imposing building, built in Edwardian style in 1905, which is visible from all over the city – was where Nelson Mandela gave his first speech after being released from prison in 1990.
The musical schedule features two of the key figures in today's Germanic electronica, Modeselektor (one of the most dependable names in modern techno and electro) and Byetone (the leading light of the prestigious Raster-Noton label), as well as the expert and always reliable French DJ Brodinski, from the Parisian Ed Banger Factory.
In addition, the festival has chosen four of the most important contemporary artists from South Africa: Killer Robot, Das Kapital, Fletcher and BLK JKS, while Red Bull Music Academy has also selected more of the country's outstanding artists: Thibo Tazz, Jullian Gomes, Culoe De Song, Terrence Pearce, Diggin4Dodge, Behr, Richard The Third and Rebel Clef. This stage show highlights what can be seen and heard in South Africa right now, from new broken dance rhythms to house with African roots, taking in contemporary soul, dub and organic electronica.
For full up to the minute details, click on any of the below: