Courtesy of the folks behind Ibiza Rocks, a brand new night is about to hit the Balearics. WE ARE ROCKSTARS (W.A.R!) is the new electronic fuelled, DJ led night that will see a mix of the most influential and exciting names in electronic music take over the famous outdoor 'Rocks' stage - Mallorca Rocks Hotel (Thursdays) and Ibiza Rocks Hotel (Fridays) for 16 weeks straight from June through to September 2012. The electric, early evening, outdoor shows will welcome regular exclusive appearances by internationally renowned producer phenomenon Mark Ronson and Ibiza Rock's Music Director and the UK's biggest tastemaker Zane Lowe.  The DJ duo will lead a line-up that also includes the first lady of Radio 1, Annie Mac, who will be joined on one of her two exclusive 'We Are Rockstars' shows in Mallorca by the pioneers of British dubstep Magnetic Man.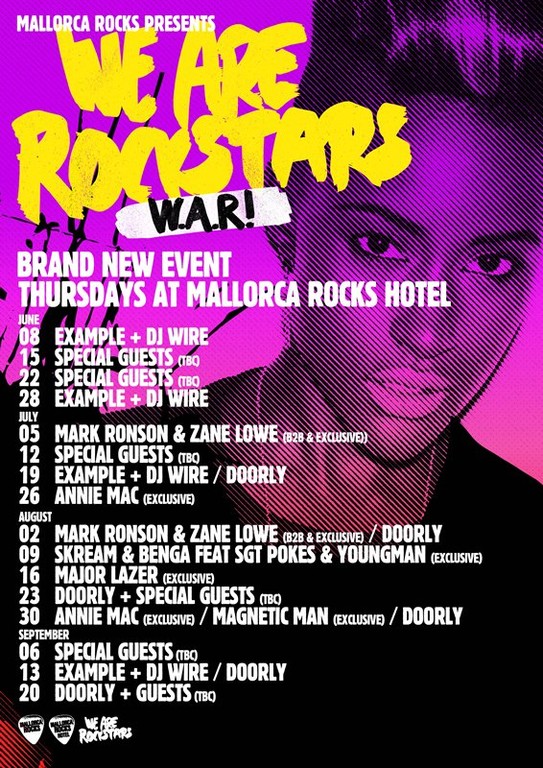 Zane Lowe, Music Director, 'Rocks' Brand said: "As soon as we walked off stage at Ibiza Rocks last year Mark and I knew we had to turn it into 'something'. It's too much fun. We are excited to be back out at the I and M for 'W.A.R.' this summer."
Mark Ronson said: "Playing with Zane last summer got me so hype, this whole past year, I feel like I've been playing at  only 79.3% when I'm by myself... get ready for 203.9% Ibiza."
The hottest duo in dubstep, not to mention the rising stars of Radio 1, Skream and Benga, team up with the longtime collaborator Sgt Pokes and the vocalist Youngman for exclusive shows in both Ibiza and Mallorca. 
Benga said: "My last time at Ibiza Rocks was amazing, the set was amazing, the people were great, it was my birthday the night of show, cake on my face, the crowd singing happy birthday and everything! This time around me and Skream are going to deliver the most amazing set ever, it's our first DJ set together at Ibiza Rocks and we won't disappoint."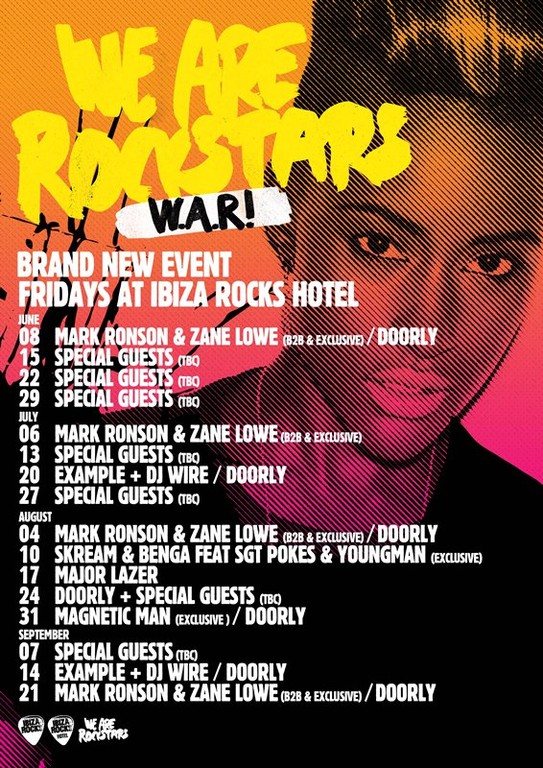 Rocks' favourite Example is set to make a triumphant return to the Balearics with his partner in crime DJ Wire, for no less than five 'We Are Rockstars' shows across both Mallorca and Ibiza.  
Example said: "Can't wait to be back! They have those huge stages and soundsystems set up all summer at Ibiza and Mallorca Rocks hotels so it makes sense to be getting more use of them with numerous shows every week. I'm happy to oblige. This will be my 5th year at Ibiza Rocks, 3rd year at Mallorca Rocks and a debut with Wire at 'We Are Rockstars.'  From my past experience, it never disappoints. I just can't say no to a party."
Major Lazer, are the go-to-guys for cutting edge music – the superstar producers behind one of the most defining records of the past decade 'Pon De Floor.' Major Lazer is a festival and club conquering monster, from Coachella to Bestival to Bonaroo and now finally bringing their beats and bass to the Balearics thanks to 'We Are Rockstars.'
With the addition of this new weekly night the 'Rocks' Hotels are doubling their events offering and now hosting two major music shows per week! We Are Rockstars will take on the same 7pm – midnight slot as the 'Rocks' gigs, outdoor under the sweet Balearic stars, playing from the famous open-air 'Rocks' stage, with the same level of production put on for the Ibiza Rocks and Mallorca Rocks gigs each week. 
Doorly said: 'I'm proud, honoured and ridiculously excited to be embarking on my 5th year as part of the Rocks family! The evolution of our parties has continued to change the face of Ibiza and Mallorca and this year we will take on the new sounds that we introduced and have built carefully on the island to the main stage with our "We Are Rockstars" shows. Nothing compares to the energy of that Rocks stage and this year you don't need to be able to play a guitar to headline on it! I'm so ready for June! See you there!'
Andy McKay, CEO, Ibiza Rocks Group said: 'We Are Rockstars is born out of a scene and an energy that we have supported for years.  Launching a separate electronic DJ led night in addition to the 'Rocks' live gigs is recognition to the incredible mix of influential and exciting names in electronic music right now – there's so much we want to support and now we're putting on a brand new night to do it!'
For full line-ups, tickets and hotel packages, log onto www.ibizarocks.com and www.mallorcarocks.com