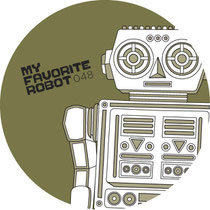 Stockholm musical heavyweight, Tiger Stripes tips his hat to early blues legend Robert Johnson with this cover of the classic 'Cross Road Blues' backed with remixes from the excellent Phonogenic. Mikael Nordgren launched his Tiger Stripes project back in 2004, taking inspiration from his hometown of Stockholm, Sweden and unleashing a torrent of exceptional electronic music on the world. In the intervening years he has recorded for labels such as Get Physical, Nite Grooves, Liebe*detail and Toolroom and established himself as a key producer with both his original productions and remixes. 
Away from his work as Tiger Stripes, Nordgren launched his indie/electronica Tandem Sky project, signing a worldwide deal with Warner Music and it is this that has taken much of his focus over the last year and a half. For 2012 he is back with his sights firmly on the house and techno he is renowned for with releases lined up on Toolroom, Audiomatique and Canadian label My Favorite Robot Records.
For his debut release with MFRR, Nordgren has bared his broad musical tastes once again with a single built around a cover version of a Robert Johnson blues classic. Johnson's 1936 recordings 'Cross Road Blues' tells the now legendary story of the musicians supposed deal with the devil, selling his soul for musical talent and fame. Norgren's cover, re-titled 'Crossroads', sees the Swedish producer step out of the shadows and into the spotlight with his debut vocal performance. The recording itself is a left of centre slice of house that draws on electro influences, dark edged melodies and superb production to create an engaging piece of electronic music that is truly unique.
Alongside the 'Crossroads' original there is 'Dancer Of The Dance' an intense and old school infused house workout that once again features Nordgren's outstanding vocals over a killer backing track. The package is completed with two re-workings of 'Crossroads' by label favourite Phonogenic who drives things along a vocal techno/electro route with remix and a deep instrumental tack with his 'Stripsrumental'. Out 19th March.