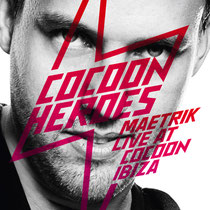 Eric Estornell, whether as Maetrik or Maceo Plex, was one of the most lauded artists in house and techno in 2011 and now this superb live set as Maetrik for Cocoon's Ibiza season provides the perfect encapsulation of why.

 Transferring the thrill of a live event into a club night is a difficult task but once Sven Väth and the Cocoon crew heard Maetrik's live set at their closing party at Amnesia, they new that they had something special on their hands. So, releasing it as a CD became a must, especially when considering Estornell's previous outstanding contributions to the Cocoon catalogue, ʻSnorkel' and ʻCrush on Me'.


The resulting live CD reflects the matchless mixture of pumping deep house, electronic soul and adrenaline-enriched noise that Maetrik has already presented on renowned labels like Treibstoff, Dumb Unit and Audiomatique.
 Four unreleased tracks (which will get a full release themselves), a couple of remixes (Silicone Soul, Popof) and some of Maetrik's finest work is effortlessly put together throughout the 10-track live set. Estronell's distinctive, hallucinogenic vocals and gleaming productions illuminated Amnesia's vast space when the set was recorded and every bit of the energy, originality and excitement is captured.

 Beginning the set with the incredibly apt vocal refrain, ʻTime Unlimited, Time Undefined', the Valencia-based Texan provides an hour of the sort of pure escapism that Cocoon is all about.


'Maetrik, Live at Cocoon Ibiza' is released on Cocoon Recordings on 3rd
February 2012.