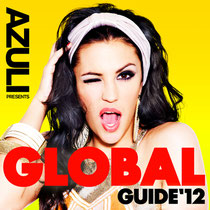 Global Guide '12 is a mammoth 50-track collection featuring the biggest tunes currently tearing up December's dancefloors globally and the tracks you can expect to be hearing most of in 2012. Centred on tough, techy and driving house Global Guide sees brand new tracks from Boys Noize, Stefano Noferini, Intruder (MURK) featured alongside anthemic cuts from Dirty South and Those Usual Suspects, Steve Angello, Afrojack, Nouveau Yorican, Chocolate Puma & Gregor Salto and Matteo Di Marr. 
Making the grade too are some of Azuli's biggest moments including Marco Lys' understated remix of 'The Weekend' and a lesser known David Jones remix of the swing house triumph 'If Only Alarms Didn't Ring' by NYC producer Biboulakis and Roul and Doors & Michael Mendoza 'Trinidad'.
Also featuring three hour long bonus mixes all gently rising in intensity from the deep to the truly uplifting, this is a one-stop to fill any discerning house advocates wallet or device. The compilation perfectly sums up the techy and musical sound of Azuli and is a steal at the unbelievable bundle price of £4.99!
Available at:
http://itunes.apple.com/gb/preorder/azuli-presents-global-guide/id487335760